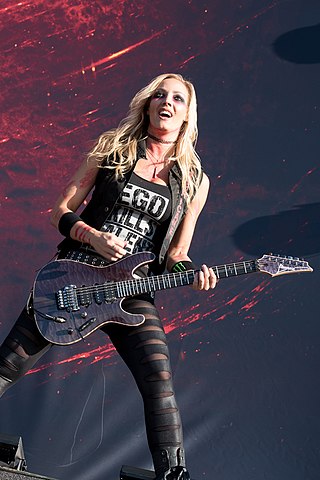 Guitarist Nita Strauss, perhaps best known for her firebrand playing with shock-rock star Alice Cooper, is indeed related to the Viennese Strauss family. Talking to Ultimate Guitar, she said, "Everyone on my dad's side of the family is all musicians, all the way back to the Viennese Strausses."
Obviously, time has moved on since then.
Although the Strauss family were close to being the equivalent of today's pop music at the time, the waltz is rarely heard in music today. Exceptions include Police's "Murder by Numbers"' and Red Hot Chili Peppers' "Breaking the Girl" – although dancers of the Viennese waltz would have a hard time finding their ways through these songs!
Waltz "not good on guitar"
The next obvious question was therefore if she would consider performing any of Johan's music, Nita said: "You know, the waltz doesn't really sound good on the guitar. Like, I've sort of experimented a bit. I have to explore it more, because I would like to. And actually, we talked even about using 'The Blue Danube' as intro music for the tour or something, but it's so on the nose. It's sort of, like, so obvious, but I still want to explore it when I have a little more time."
It's true that waltz is a rare thing in today's guitar playing. If you can think of an exception, please drop the reference in the comment section below – we would love to hear some.
Nita Strauss: Call of the Void
Born Vinita Sandhya Strauss, guitarist Nita Strauss is blazing her own trail in rock and metal music, taking on some of the biggest names in show business with her incredible talent.
At only 17 years of age, Nita left high school to pursue a career as a professional musician full-time. She toured with Lia-Fail which included future world champion boxer Mikaela Mayer before joining The Iron Maidens – an all female tribute band for Iron Maiden.
Since then she has performed with several rock ensembles including Consume The Fire, Femme Fatale and Critical Hit; the video game supergroup that features members from games such as World Of Warcraft and Diablo III.
In 2014, Nita was hired as the official house guitarist by LA KISS (the arena football team owned by Paul Stanley and Gene Simmons) performing at every game plus national anthem duties too! Her impressive resume continued to grow when Alice Cooper personally asked her to replace Orianthi as his touring guitarist – playing alongside him until July 2022 when she announced her departure from his tour. After playing with Demi Lovato, she later returned to Cooper's touring band.
Nita has been outspoken about the role of women in rock, and continues as both a role model and mentor through her courses and master classes.
Here latest album is "The Call of the Void". More info and touring dates on the Nita Strauss website.